Save Tiktok Video in 10 Second by SSS TikTok
You are at the right place if you want to download TikTok Videos free online. Our TikTok video downloader is the fastest and easiest to use tool which is available free of cost. This tool allows you to save your TikTok videos as MP4 videos.
SSS TikTok wants to keep it easy and secure for our users so you are not required for any prior installation of any software. You can save tik tok videos in any device. iPhone, android, windows, etc. all devices are supported by tik tok video downloader.
When you download tiktok video with one of the easiest and fastest tik tok video downloader then the quality of downloaded video will always be same. It will save tiktok video in your device in just few seconds.
Key Features
Download your TikTok video without watermark. SSS Tik Tok do not charge anything and allows you to download TikTok videos without watermark in just few seconds.
When you save tik tok videos, the quality of the video remains same. It allows you to save video in the better quality.
The best part about our SSS Tik Tok downloader without mark is that it is Free of cost. No downloading charges are there. Users can enjoy quality service at free of cost.
No prior installation is required. TikTok video downloader online doesn't ask you to install any other software.
SSS TikTok does not keep any data of our user. We respect your privacy. Hence, we do not save or keep any of your data.
TikTok video downloader is 100% Secure. None of your data and downloaded videos will ever be saved here.
Download video in any device such as mobile device, tablet or PC.
Download TikTok Videos without watermark
Our free TikTok video downloader lets you download TikTok video with ease in just simple steps. Check out these easy steps written below:
Open TikTok app on your mobile phone.
Select the video which you want to download on your phone.
At the right bottom, press the share bottom.
Press the "Copy Link"
Now paste the copied link to our TikTok downloader tab given above and after that press the download button.
After few seconds your video will be saved on your device.
Get TikTok Video Download Link
No worries, follow these simple steps to get TikTok video download link:
Open the TikTok app on your phone.
Select the video you wanna download.
Press the share button and you will see the Copy link button there.
Once you copied the url, your download url is there on clipboard.
How to Download TikTok Video without watermark?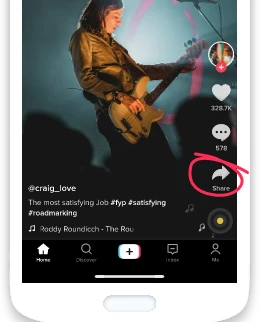 Copy Tiktok Link
Select the video which you want to download, Click on share button and "Copy Link"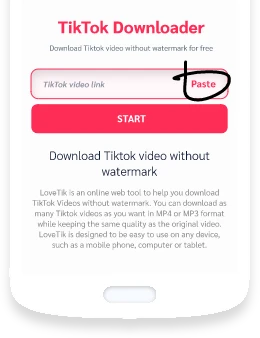 Paste URL Tiktok video Link
Open SSS Tiktok and Paste the video link into the input field above and click the "Search" button.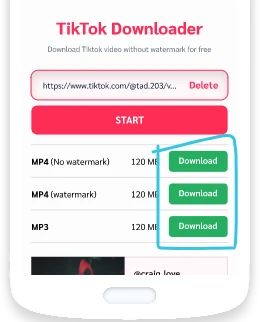 Download Tiktok
After few seconds your video will be saved on your device.
Frequently Asked Questions
What is Tiktok?
Tiktok is the world's most famous app in which users can share 15 seconds videos on any topic.
Where are TikTok videos saved after being downloaded?
Once you download TikTok video from our TikTok video downloader online, your video will be saved on your folder (Whichever default folder you have set in your device).
Will SSS TikTok Downloader keep the data or copy of downloaded videos?
We respect and value your privacy. TikTok download free tool does not store or keep your videos. We do not store the downloaded videos copies. No track of download histories will be with us.
Can I use this Tiktok video downloader on my Android phone?
SSS Tiktok downloader without watermark is accessible on any devices. It will work on android with ease.
What are the devices supported by SSS TikTok downloader?
Download video tiktok in any device such as laptop, iPad, PC, Android and iPhone.
Does save tik tok supports operating devices?
Save Tik tok downloader supports all operating devices such as Windows, Linux, MacOS, Android and iOS.
Does this TikTok videos downloader charge anything?
No, Our TikTok video downloader is absolutely free. We do not charge you a single penny to download TikTok videos.
Do I need to install instructions or extensions?
SSS TikTok downloader wants to make it easy for you so we do not ask you to download any other extension. All you have to do is just copy the TikTok video url and paste it in above tab.
Do I have to pay to Tiktok Downloader without watermark?
No, SSS TikTok video downloader is absolutely free to use. We offer all the facilities free of cost. Your TikTok video will be downloaded without watermark without paying anything.